Two new queer art institutions opened their buildings in London this Pride month. Queer Britain is "the UK's first national LGBTQ+ museum" while Queercircle "seeks to develop an ecology of artists, curators, writers, thinkers, community organisers, grassroots organisations and charities". This should be unremarkable: Berlin has had its Schwules Museum since the 1980s and plenty of metropoles are home to queer institutions like San Francisco's Queer Cultural Center. Given the amount of public attention that all manner of things queer have been attracting of late, it's only surprising that this hadn't happened sooner.
Indeed, the two venues are unremarkable so far as they bring predictable artistic tropes together with predictably progressive politics. Queer Britain's gallery space in King's Cross launched with an exhibition of archive photographs tracing the impact of gay, lesbian, and trans people on the country's culture and politics. All the icons are there: Princess Diana meeting an HIV patient in 1991, the racing driver Roberta Cowell who was the UK's first publicly known trans woman to medically transition, the Scottish Conservative Party leader Ruth Davidson, and the performer David Hoyle. Much of this material is, no doubt, of great historical significance.
Alongside it, however, are less-than-subtle signals of the organisation's true understanding of 'culture'. In the exhibition's introductory text panels, the sponsors' names are more prominent than the issues they address. On the charity's website, the most substantial item describes its partnership with the drinks producer Diageo. To avoid the cringe of corporate liveries adorned with rainbow colours, Queer Britain included a photograph of a railway train progressively branded with the Pride flag (in… 2017) as an artefact. A visitor may leave the exhibition associating 'Queer Creativity' (which for some reason deserves capital letters) with a wine brand more than with the creator, believing that queer people's community-building drive is indebted to Levi's jeans, or thinking that early Pride marches were the ingenious invention of M&C Saatchi.
The lock-step march of culture and capital is nothing new and Queer Britain is far from the greatest offenders here. But already, one would try in vain to understand whether it's the corporations that are dictating the agenda or the archivists. And it's unclear what the agenda is because the exhibition has all the charm of a local history display at an underfunded public library. Seeing that Coutts bank is among the supporters, an exhibition on 'queer money' could be in order.
In the freshly-built Design District in North Greenwich, money is no object. Queercircle, a 'grassroots' organisation whose supposed multi-year past activities have included producing marketing collateral for a blue-chip art gallery, opened with an installation of colourful abstract murals by Michaela Yearwood Dan that, according to the exhibition text, "refutes the concept that LGBTQ+ people are 'unnatural'". The space the artist has created feels more like a site for a daytime party than an exhibition and it is styled to look as 'welcoming' as they get. Indeed, since the organisation's unpublicised launch party (for the community, right?), the only event Queercircle has staged has been a queer parenting breakfast complete with drawing activities for children. It has also provided the background for so far the only video evidence of the organisation's work that praises the art material manufacturer Windsor & Newton for its spirited support.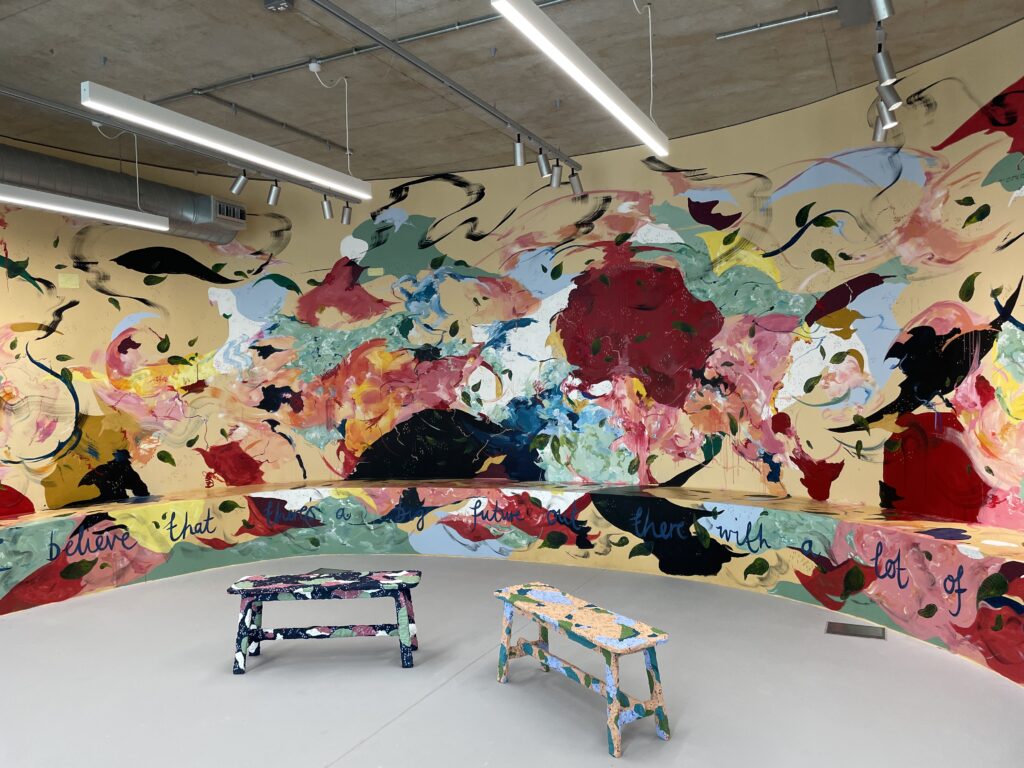 The brand-new building also houses a reading room of assorted queer literature styled like the relaxation area of a WeWork office where a book of interviews by the megacurator Hans Ulrich Obrist was prominently placed without any explanation of his relevance to queer culture. There's also a display of archival Pride march photographs produced to a strikingly higher material standard than the analogous display at King's Cross.
One wouldn't know it from Queercircle's publicity materials, but the Design District is the brainchild of a property developer who readily admits to using culture to sell flats in the former wasteland on the Greenwich Peninsula. A marketing slogan suggested that "traditions were important to neighbourhoods" before proposing that the developers would "invent some". In that light, Queercircle is a plant, and one of many in the postcode.
In contrast to Queer Britain, Queercircle seems to have understood the opportunity offered by capital and the benefits of becoming synonymous with it. The charity already counts some art world luminaries on its board despite having constituted only a month before opening: the sales director of Victoria Miro gallery (yes, the one where Queercircle grew its commercial 'grass roots'), the curatorial director of an online art sales platform Artsy, and a celebrity actor cum art collector Russel Tovey. There's also a board link to the art patronage charity Outset and the obligatory affiliate from another 'independent' arts organisation, just for balance. No points for guessing which considerations will determine this gallery's future cultural programme.
Between them, Queer Britain and Queercircle mark two distinct stages in capital's transition from appropriation of queer culture to full-scale colonisation. Until recently, corporations showed their woke pride by incorporating the rainbow in their brands. This mode of co-optation had its critics but it came down to right-wing commentators such as the now-banned Twitter user @woke_capital to point out that such pandering is far from benign. In the latest evolution, capital sets out to manufacture culture on its own terms and knows that we will be none the wiser. This is perfectly illustrated by the Ultra Pride Flag proposed ironically by another pseudonymous Twitter user: if we are all to be included in a queer culture, we should make space for corporations and for an unending list of conflicting political and material demands. But if at Queer Britain, the sponsors demand space on the flag, at Queercircle they are happy to remain hidden in the footnotes to the annual report while maintaining full control of the culture they bankroll.
It was ever thus and there is enough space in the world for archival queers and corporate art queers. If the key characteristic of queerness, as Deleuze suggested, is its propensity to evade characterisation, these 'captured' queers are no threat to any genuinely grassroots culture because they are not in the slightest countercultural. But as the very idea of queer culture has shown itself to be as corruptible as the very word 'queer', is it not time to treat its proposals with a greater degree of scrutiny? We may be able to spot when an oil corporation buys the cooperation of a museum to green-wash itself. But who, precisely, sanctions cultural ideas like Drag Queen Story Hour, with whose money, and to whose benefit?
---
Main image: Vox_Oculi.